2017 Goals, Targets and Site Updates
Merry Christmas, Happy Holidays, and lets bring on the New Year!
Make Goals
Before, I laughed off the concept of New Years Resolutions. Today, I have a different stance.
We use Metrics and Goals in engineering to hit milestones, price targets, quality standards, and anything that we want tracked. Instead of calling them New Years Resolutions, we'll call them Targets.
Here are a few things to make Targets better than a 'workout more' New Year's Resolution:
Choose goals that are- Specific, Measurable, and Achievable.

Good Example- Run 1 Mile under 6 minutes.
Bad Example- Run more and faster.
Good Example- Read 25 minutes a day
Declare your Metrics- How will you measure your progress? Decide if you can use tally marks or need to write down dates/times/weights. See if you can track with numbers.
Be Visual- I personally like physical calendars with a sharpie nearby. Check off dates you were successful or write down the metrics. Put it somewhere you look every day.
Use Human Biology Against Yourself
There are fallacies that cause humans to invest further into decisions. There are many psychological tricks out there, here are some easy ones:
Draw your own diagrams instead of printing- The time it takes to draw your own tracking system is sunk cost. Now you must do your goal, you already put time into it.
Monetary Sunk Cost – Pay 1$ and I'll motivate and keep tabs on your Targets. Now that you spent money on your goal, it would be a waste if you don't achieve.
Don't bite off more than you can chew- Its easier to have 1 large goal and a few easy goals. Failure in one often causes others to drop off. If bodyweight is something you want to work on, focus on diet as the large goal with much easier and more forgiving workout goals.
My artwork- X Calendar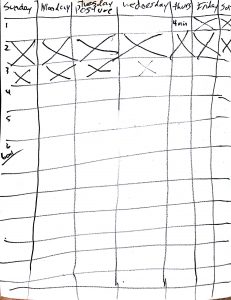 If you did the target for the day, mark an X on the calendar. If you miss a day, circle the date. Once you get a streak going, you wont want to stop. I've done comical things to keep the chain going.
Not New Years Resolutions- Targets
These goals are being tracked – "What gets measured gets managed".
Pick a system as complex or simple as needed. I've used scrap paper and excel charts. Add numbers or attributes(True/False) and track your Targets.
This year you aren't some trendy New Years Resolutioner, today you can achieve your goal.
Efficiency Is Everything 2017
We definitely grew last year and as a result, we got quite a few Efficiency studies by request. I'm only one Engineer, and the community has found things I'd never have expected. I'm really excited to tease these topics:
Nutrition Per Minute – Looking at how long it takes to get protein, calories, and vitamins based on different methods of obtaining food. I think cooking eggs + breakfast sausage is faster than going to McDonalds. Thats a hypothesis, we are going to find out the most and last efficient ways to get food.
Time Studies – We had a minor time study on doing dishes. We will be looking at the time it takes to hang dry clothes vs machine dry + put away. I'm thinking of doing a detailed kitchen time study if there is interest.
Nutrition Per Dollar- This is our biggest undertaking, and we've had to hire employees to get this done. We are mapping out an entire grocery store and this time, its not just Calories Per Dollar. We will be looking at different nutritional aspects as well.
Not mentioned, Efficient Party Throwing, Efficient Student Loan payments, Efficient Investing vs Debt, Paper Towel/Napkins/Toilet Paper Per Dollar, and if we can figure out a responsible way- Efficient Childcare.
These are topics I've had requested, if you have an area in life you want Efficient, email me at MichaelKirk@EfficiencyIsEverything.com
Updates And Personal Life
Going forward, I'll be releasing 1 major study and 1 minor article a month. I've had requests to include new information on the Calorie per dollar, caffeine per dollar, and alcohol per dollar list. I'll throw those in occasionally.
I've accepted a job at GM. I love engineering and I couldn't stay away for long. My boss says the word Efficiency almost daily and I get excited every time. My wife is now a Doctor of Physical Therapy and we are soon to be home owners. Wonder what kind of Efficiency is ahead for us…
We are testing out new high calorie per dollar and quick nutrition per minute recipes. My very picky wife questions it every time, but likes it enough to bring as leftovers the next day. Expect some efficient recipes coming your way.
My 2017 Goals
2 Hours at the library after work everyday. Metric for tracking- I track how I used my library time in 25 minute increments in Excel.
Daily Workout- Minimum walk 1 mile after work. I'll always end up working out or running that mile, but no excuses. Drawing a X Calendar for daily tracking.
Eat Vegetarian once a week- Beans and Lentils are really good Protein per dollar. I'm always looking to find more efficient ways to eat, finding good recipes are the hard part. Tracking with a checkmark for the week on the refrigerator.
Draw/Draft 5 minutes a day- Trying to get better at communicating via picture, easy X Calendar goal that will likely consume more than 5 minutes a day
Your turn. Pick at least one life Target you want to change and throw some numbers on it. Its not a NY Resolution, its your goal.
Add Sunk Cost to boost your Target for $1 – it will be fun!