"Sunday" Chicken – So easy we make it on Fridays
Edit: Got some requests for a picture, I'll make it tonight and have a picture in the morning – yep its that easy 🙂
Summary: Slow Cooker Miracle. There has never been a food so easy and so good.
Active Time: 1 Minute


Passive Time: 4 Hours
Total Time: 4 Hours
Servings: 3-6
Features:
Ingredients
– 5 Chicken Thighs (Chicken Breasts Can Be Swapped Without Any Loss; There Is Enough Fat In This
Recipe)
– 1 (10½ Oz) Can Cream Of Chicken Soup
– 1 Packet Of Dry Italian Seasoning  (Find It Near The Salad Dressing)
– 1 Package Of Cream Cheese
– 2 Cups Uncooked Rice
Instructions:
Put Chicken, Dry Italian Seasoning, and Can of Cream of Chicken Soup in a Slow Cooker for 6
hours on High or 8+ hours on Low.
Start Rice and follow package directions.
Add Cream Cheese. Stir and break up the meat. Don't turn it into mush.
Serve on top of Rice.
Yes, it really is that easy 🙂
Post Notes: If this ever gets boring, swap out the Can of Soup with Cream of Mushroom or something new. Swap out the Dressing Packet; try Dry Ranch Dressing.
Get more Efficiency to save time and make your dollar go further.
For more cost effective recipes that are delicious, check out Efficiency Is Everything – The Cookbook – Cook less than 3 hours a week and eat for 1,000 dollars a year, delicious, whole food.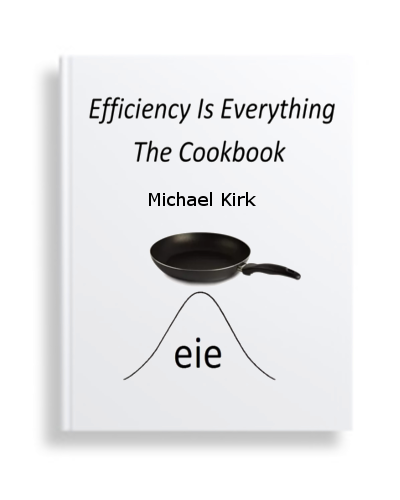 Expand your Efficiency
Get more Efficiency to improve your daily life. Subscribe and get three slow cooker recipes designed to be low cost, quick and healthy.