Entertainment Per Dollar- Cable TV, Netflix, Sony Vue, Audible, Youtube, and more
Efficiency- Michael: Cost Efficient Entertainment And Sports
If you aren't already watching Youtube for your entertainment, spend a few weeks watching and subscribing to videos you enjoy. Soon Youtube will learn from you and give you life changing content.
My parents are still spending thousands of dollars a year on Cable TV, full of commercials, and no ability to watch videos faster. Dropping cable TV in favor of internet entertainment will save you money.
Even with Youtube, We still find reasons to spend money for entertainment. Netflix, Big 10 Network, Game of Thrones.
Looking to optimize and find the lowest cost solutions for Entertainment and Sports.
Entertainment Per Dollar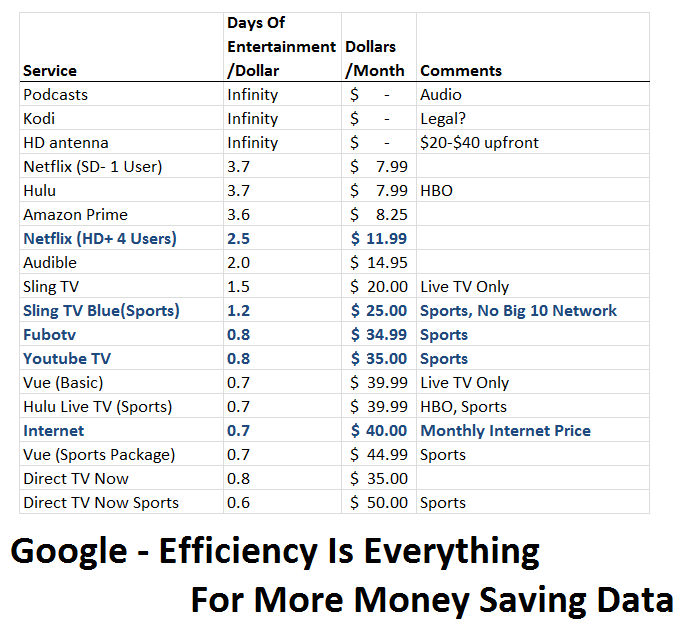 We hooked up a laptop via HDMI cable to our Flat Screen TV. That + a USB Mouse/Keyboard gives us the freedom only a computer can provide.
Youtube is my go-to for entertainment with Netflix HD(Split with Family) slightly trailing behind in daily usage. Hulu is a low cost way to watch Game Of Thrones.
Efficiency Conclusions For Sports Fans
I was pretty excited about Sling TV(7 Day Free Promo) but they don't have Big 10 Network, which is my biggest reason to get a sports package. If you aren't watching Big 10 games, I recommend that for a sports fan.
I watch Michigan Football. At 39 hours per year, its a time efficient sport. Long Time Fan + Married into a Dr. from University of Michigan. However, it looks like that is going to cost me 35$/month to get fully legal Michigan Football through Youtube TV or Fubotv.
Time To Cut Cable
We have been Cable TV Free since 2012. Commercials seem extremely weird to me. Why is a hippie randomly meditating in front of a couple and why is he offering a credit check? Bizarre.
If you havent cut cable yet, I challenge you to. If you already have made the jump, optimize your entertainment so you get exactly what you need.
Friendly reminder- You should probably call your cable internet company and threaten to leave for a lower rate.
Expand your Efficiency
Get more Efficiency to improve your daily life. Subscribe and get three slow cooker recipes designed to be low cost, quick and healthy.