Protein Powder Per Dollar – Guide To Efficient Protein
EDIT: Updated for 2022, new study here.
Efficiency-Michael: Instant, Low Cost, Healthy
I often use Protein Powder as an quick, high protein meal replacement.
It's really not that exciting but:
1 scoop of Whey Protein(20g Protein)
8oz or 1 Cup (Whole) Milk
Veggies or a fruit.
It's:
Faster than 'fast' food
2x more affordable than the lowest cost fast food (Little Caesar's 5 Dollar Pizza – 21 g Protein Per Dollar)
Healthy and full of Protein.
Think of it nutritionally like eating a few chicken legs with veggies on the side. Depending on who you buy from, it can be a better value than chicken or far worse.
Being an engineer, we are going to use data to optimize the best value of Protein Per Dollar
The Math(Data is below):
We take the servings in a container, multiply that by the protein per serving, then divide that by the after tax cost.

An example:
Servings = 50

Protein Per Serving =24

Cost = $49.99 (online w/ free shipping)
The Data(By Best Value):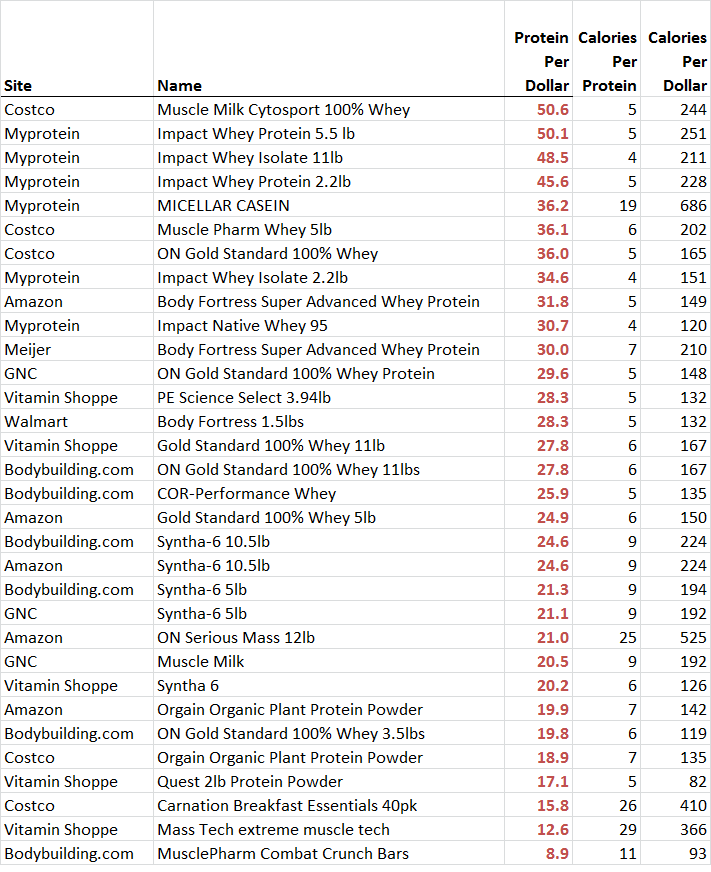 Using The Results
Best Value 51g Protein Per Dollar – Costco with 6lb Cytosport/Muscle Milk Brand (DON'T GET THE VANILLA – traumatizing taste)
MyProtein Impact Whey 5.5lb was on par with Costco at 50g Protein Per Dollar
Hate to drop a referral, but MyProtein has a 40% off deal for new customers. That would make it 80g Protein Per Dollar.
Other tips:
Buy in Bulk, better Protein Per Dollar and save on shipping costs.
There is a HUGE range of Protein Per Dollar. Make sure you know what you are buying.
I suggest trying a smaller size first, otherwise you might end up with an unfavorable tasting mix. I usually pick Unflavored or Chocolate.
For Comparison
Chicken Breast – 50g Protein Per Dollar
Milk – 50g Protein Per Dollar
Eggs -45g Protein Per Dollar
80/20 Ground Beef – 30g Protein Per Dollar
Lentils and Beans are  115g and 70g Protein Per Dollar respectively
Not on that list? It's probably more expensive than a protein shake. Or click here for the Protein Per Dollar List.
Try It:
I do a daily protein shake, because Efficiency, but if you are trying it for the first time-
Feel Lazy
Make yourself a protein shake
Eat a fruit or veggie
Feel good about it
If you haven't used protein from Costco or MyProtein – give it a try.
Expand your Efficiency
Get more Efficiency to improve your daily life. Subscribe and get three slow cooker recipes designed to be low cost, quick and healthy.