Shoes Per Hour – The Math For The Most Efficient Way To Put Shoes On
Engineer David Richelson conducted this study on Shoes Per Hour-
Shoes Per Hour – Fastest Ways To Put On Shoes
David- "There has to be a faster way!"
I spent about 3 months taking my shoes on and off at least twice a day. Every time I'd think to myself, "there has to be a faster way!" Since trying out different shoes and different laces, it turns out there's not much I can do.
I've finished a time study on tying and untying my shoelaces, slip ons, shoe horns, and more. The most Efficient way to put on shoes.
Methodology
To keep it consistent, I would place my phone on the table in front of me, in timer mode, with my shoes in front of me. Then I would slip each shoe on, and tie them at my regular pace, being careful not to rush. I took four samples for each shoe for 7 different shoes: my personal dress shoes, my personal running shoes with standard laces, my personal running shoes with "Lock Laces", basketball shoes, work shoes, running shoes with braided laces, and running shoes with standard laces. Ultimately what I want to know is: how much time does it take, on average, "per cycle". In engineering, a cycle is when a given process is complete. In this case, a the process consists of putting the shoes on and then taking them off.
Tested Shoes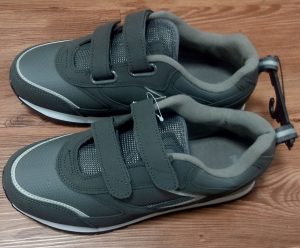 Before I can discuss the results, I need to mention that my Puma shoes and the Starter shoes came with comically large laces (pictured below). It was unreasonable for me to single knot these shoes. Realistically, I'd double knot them, which is how I timed it. This added significant time to taking them off as well as putting them on.
Results
You can see from the chart below, that most tied shoes require relatively similar times to take on and off.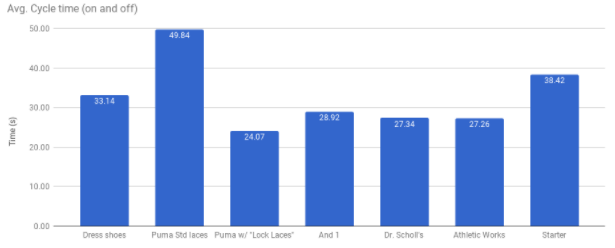 I suspect that the length of the shoelace has more to do with the time, than the profile. I was surprised to see that the Athletic Works shoes, which had a braided shoe lace, had no noticeable effect on the time.
The most dramatic difference was between my Pumas with the stock laces vs replacing them with "Lock Laces." I shaved at least 15 seconds off putting them on! That's the most relevant improvement for me, since I know that my motivation for working out is fleeting, and can easily evaporate in 15 seconds. But once I have my shoes on, I might as well work out.
For better or for worse, I've got the need for speed. Can I shave off any more time? I needed to think outside the box. I tried stylish slip on dress shoes for work, and velcro shoes for working out. My most inventive idea was leaving my dress shoes tied, and then pushing my feet into them with a shoehorn to assist me.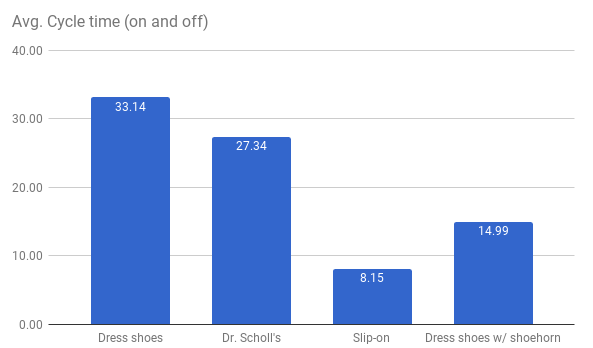 Slip-on shoes are the clear champion. It was almost too fast to measure. Since there's no laces for either the Slip-ons, or my pre-tied dress shoes, timing the cycle consisted of just pushing them on. Here's a quick video of how I timed it.
Switching to slip-ons would save me about 25 seconds per day. That's worth 15 days vacation(120 hours) over the course of my life! Pushing my pre-tied shoes on did technically work, but it was destructive to the shoe and slightly painful for my feet.
When it comes to working out, I could commit the fashion faux pax of getting Velcro. But, I've gotta look stylish in the gym too.
At the end of the day, 25 seconds doesn't sound like a lot. But it adds up over time. This was a great exercise and I can't wait to apply these time study techniques to the next part of my life.
Data:
https://docs.google.com/spreadsheets/d/1IS1lgoWiqvJ43TNQ9HVNxQ9zKq15DzzUHu_PH-BMAXA/edit?usp=sharing
Michael Kirk- Shoes Per Hour
Utilizing David's data, I just had to… I can't resist 🙂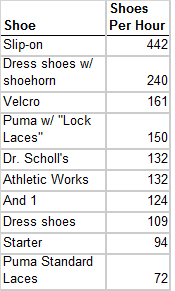 Efficiency's Conclusion
I currently use Dress Shoes + Shoe Horn set up, but seeing that slip-ons are 2x faster, I'm going to be on the lookout for nice Slip-ons.
I haven't tied a pair of shoes in memory and this data shows why. Tying your shoes takes 2x more time than using a shoe horn.
Thanks to David for completing this study to my Engineering Standards.
Edit 4/26/21- user Jay reached out suggesting Olukai shoes as they have a collapsible heel. This makes it close to slip-on shoes per hour. While they still require a hand to convert the heel to upright, this can be done when time is less urgent. Something to consider if you are looking for something more fashionable than slip on shoes.