Today in Tech
[et_pb_section admin_label="section"][et_pb_row admin_label="row"][et_pb_column type="4_4″][et_pb_image admin_label="Image" src="https://efficiencyiseverything.com/wp-content/uploads/2017/05/Today-In-tech.jpg" show_in_lightbox="off" url_new_window="off" use_overlay="off" animation="off" sticky="on" align="center" force_fullwidth="off" always_center_on_mobile="on" use_border_color="off" border_color="#ffffff" border_style="solid"] [/et_pb_image][et_pb_text admin_label="Text" background_layout="light" text_orientation="left" use_border_color="off" border_color="#ffffff" border_style="solid"]
At the rate technology is progressing, it can be hard to assess which new gadgets are promising and which are complete duds. Thankfully for you, the Efficiency Team has way too much time on their hands. Time of which, will be spent by subjectively determining the efficiency of upcoming technologies in as objective a manner as possible! For our very first Today in Technology: Graphene Speakers!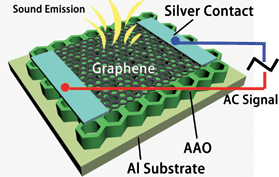 Speakers take electrical signals and convert them into audible sound. Currently, a vibration is created by an electromagnet which produces air flow, resulting in sound. Using graphene, scientists plan to eliminate movement from the equation, and instead produce sound by using heat. Rather than pushing air with a vibration, graphene speakers would heat and cool a layer of graphene, causing the air around it to expand and contract. I know what you're thinking: 'that's really cool, but does it really matter how the air is moved when creating sound waves?' As it turns out, yes it does! Without any form of development, prototypes of the graphene speaker are already outperforming a set of $10 modern headphones in 2017. A test model to gauge if the technology even worked is already at a point in which it could compete in a market place. If you would like to read more about graphene, you can here. Now, to determine the efficiency of these upcoming technologies, in this case graphene speakers, each product will be evaluated from a scale of 1-5 in the following categories:
Relevance – Is this technology appropriate for modern times and connected to modern culture? 

Score: 5/5

It's hard to give this anything lower than a five. Sound will always be a major part of human interaction. Televisions, phones, laptops, tablets, Ipods, radios, it would be nearly impossible to avoid speakers in the modern world.

Cost –  Is this technology cost effective now or in the foreseeable future? 

Score: 3/5

The biggest costs of this technology are going to be based on the availability of graphene. Being that its availability is also dependent upon it coming to market, the speakers will be affordable. However, I am going to give this one a three as we are still not able to reliably produce graphene at scale.

Significance – Does this technology impact humanity on a frequent or monumental basis? 

Score: 2.5/5

We don't really have a problem with speakers, this would just improve upon a technology we already have. Nothing that is going to change humanity in significant manner, hence the low score.

Quality/Quantity  – Is this technology close or near a point of sufficient application? 

Score: 3/5

As previously mentioned, there is no reliable way to produce graphene at scale. That gives it a score of three.

Potential – Are there future applications for this technology beyond the scope of its current state? 

Score: 4/5

I'm going to go a little outside of the box on this one and say yes, not due to the implications for future application of graphene speakers – but for grapehne in general. The potential of graphene is so large that it warrants a five, but since I was technically talking about graphene speakers specifically I am holding off on a perfect score.
From here, we divide the total score by five and get an efficiency rating. 1.0-1.9 – This technology is irrelevant or impractical. 2.0-2.5 – This technology has future applications that aren't nearly developed. 2.6-3.5- This technology has promise for applications in the very near future. 3.6-4.0 – This technology is developed and will have applications in the near future. 4.1-4.5 – Why aren't we funding this? 4.6-5.0 – This is a groundbreaking and mind-blowing innovation which will change life as we know it.
Graphete Speakers: Efficiency Rating: 3.5
This technology has promise for applications in the very near future. 
[/et_pb_text][et_pb_signup admin_label="Email Optin" provider="mailchimp" mailchimp_list="none" aweber_list="none" title="Subscribe for more content. " button_text="Subscribe" use_background_color="off" background_color="#7EBEC5″ background_layout="light" text_orientation="left" use_focus_border_color="off" use_border_color="off" border_color="#ffffff" border_style="solid" custom_button="off" button_letter_spacing="0″ button_use_icon="default" button_icon_placement="right" button_on_hover="on" button_letter_spacing_hover="0″] [contact-form][contact-field label='Name' type='name' required='1'/][contact-field label='Email' type='email' required='1'/][contact-field label='Website' type='url'/][contact-field label='I am not a robot.' type='checkbox' required='1'/][/contact-form] [/et_pb_signup][/et_pb_column][/et_pb_row][/et_pb_section]