Eat For $1.50 Per Day – Urgent Release Prompted By Record Unemployment
EDIT June 15 2020: New $1.50/day Youtube Recipes
MAJOR EDIT: 9-6-2020: New nutrition info. Per Essential Amino Acid Research, Females eat 3-5 eggs/day, males up to 7 eggs per day. For Essential Fatty Acids EPA and DHA Take Fish Oil. If you are a believer in phytochemicals/Flavonoids, feel free to eat those in addition to the base $1.50/day recipes.
Efficiency Is Everything Responds to Crisis
Based on preliminary data from Food Per Dollar 2020, I have been asked to urgently provide recipes on how to eat for $1.50/day. The recipes below are tools to help you eat toward $1.50 per day.
As a note, our Eating for 3$/day Cookbook can be found here. These are more similar to common cooking and often require less prep, and have more meats.
Foods
The recipes in this article will be based on Potatoes, Milk, Flour, Eggs, and Kale. (Honorable mention to Beans and Carrots)
Using our Nutrient Per Dollar study, US Government nutritional recommendations, and linear algebra we solved for the lowest cost foods that hit all nutritional requirements. (As a note this is preliminary as it uses 22 macro or mincronutrients to determine its results)
Preliminary Female age 19-30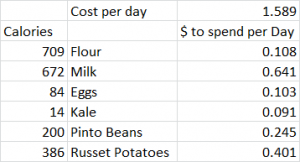 Preliminary Male age 19-30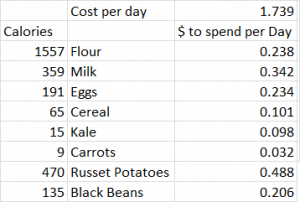 If you are allergic, keto, picky, or vegan, I can calculate a specialized list for you. Please contact me at michaelkirk@efficiencyiseverything.com
EDIT: I added suggested foods for Keto and Vegans here.
Note- Some recipes have additional foods (IE- oils, sugars, spices) that can be added for flavor. It may be best to consider spending 1-2$/week on 'flavor'.
$1.50 Per Day Recipes
There are lots of recipes, but I wanted to give you an idea what the week looks like.
Our current rotation of dinners (and lunch leftovers) is the following
Dinners/Lunches-
Monday- Easy Potato and Vegetable dishes: Hashbrowns, mashed potatoes, baked/microwaved potato, Carrots/Kale roasted or fried. (Add salt and oil to make anything delicious)
Tuesday- Homemade Noodle dishes: The cheapest are Bechamel sauce(no butter), oil + fresh pepper(buy fancy peppercorns for $3 and use all year!), carbonara no cheese, and (carrot) vegetable soup. Slight extra- Tomato sauce.
Wednesday- Efficiency-Mexican: Homemade Tortillas/nachos stuffed with pinto/refried beans, fried potato cubes, kale, hot sauce.
Thursday- 2$ Pizza: Homemade Dough, pizza sauce or BBQ sauce, mozzarella(but apparently you can make Mozzarella in 30 minutes, currently experimenting)
Friday-2$ Fried Rice: We deviate and have a rice dish for a Friday dinner. As a bonus it only takes 10 minutes to make. (Recipe in the free Efficiency cookbook minus chicken)
Saturday-Vegetable pot pie. Its so good, recipe below.
Sunday-Fancyish: Pierogies, Gnocchi, Homemade Noodle Pad Thai
Breakfast-
Pretty much eggs, toast, and hashbrowns.
Potato Soup
This recipe is for 2 people, but we double it for leftovers.
Ingredients-
Roux-
3 Tablespoons oil (or for non frugal people- butter)
3 Tablespoons flour
Soup-
2 Cups Milk
2 Cups Chicken Stock (aka- 2 cups water, 2 chicken bouillon cubes)
3-4 Potatoes, cubed (skins on for laziness and nutrition)
1 Teaspoon salt (I add more, but Mandy says I over salt)
Half Teaspoon black pepper
For the roux, add the Roux ingredients to a pan and cook over low-medium heat for ~5 minutes, stirring often. Don't let it burn, it's easy to do. Add the rest of the soup ingredients to the pan, heat until boiling and cook for ~20 minutes stirring occasionally.
Crepes
These are so good, you will forget these are part of the $1.50/day budget. They taste luxury.
Makes 4 Crepes. Recommended flavors- Peanut Butter and Jelly(my favorite), Chocolate(melt kisses in the microwave), Nutella(so expensive, chocolate is cheaper).
Ingredients-
3 Eggs
1 Cup Flour
1 Cup Milk
1 Tbsp sugar (optional, or add more than 1 Tbsp)
1/2 tsp salt
Directions-
Mix well, stand mixers help(Worst case use a fork). Other people say to let it sit 30+ minutes, but its not necessary.
Turn a medium size pan on low heat, when its warm, add 1/4 of the mixture, approx the size of a ladle. Rotate the pan to coat the bottom of the pan. After ~2 minutes it should look cooked. Using a spatula, lift the sides of the crepe before flipping. Flip and let it cook for less than 1 minute, all done. Stuff and fold.
Avoid crisping(unless you like that) on higher temps. Your second crepe will look professional.
Homemade Noodles with Spaghetti sauce/Soup/Alfredo
Pick your flavor options, salt and oil is basically free-
Soup? Make veggie broth, chicken boolean(yes) cubes, leftover bones to make stock, whatever you want.
(protip- stand mixer and noodle maker makes it easy and delicious)
Ingredients, 2 servings-
In a pot-
Mix 4 cups water (and 4 chicken bouillon cubes), get this to a boil
In a mixing bowl-
3 eggs
1 teaspoon salt
2 Tablespoons water(or milk)
2 cups flour
Directions-
Mix eggs, salt, water/milk, and flour until fully combined. It should be sticky enough to combine into one lump. If its runny, add additional flour. If its dry, add water, 1 tbsp at a time.
Lightly flour a cutting board, place the lump on the board. (optional- kneed about 12 times and wait 30 minutes. This is best for making angel hair noodles) Flattening the lump into a thin layer. Most people like thin noodles, so its recommended to use a rolling pin, adding flour as needed. At this point either use a noodle maker, or cut into thin strips. When all the noodles have been cut, put into boiling water for ~2 minutes. Keep an eye on the timer, after 2 minutes, remove from heat. Serve.
NOTE: This recipe has been improved, the old recipe was- 2 eggs, 1 teaspoon salt, 2 Tablespoons milk, 1.5 cups flour.
Mashed Potatoes
Pretty basic, but since Efficiency Is Everything, I'll provide the laziest way. Serves 4-6 people.
Ingredients-
4-6 potatoes
1/2 cup of milk. Add more or less depending on your style
1+ tsp salt
Pepper
Directions-
You could skin the potatoes, I don't.
Boil the potatoes. You can use a slow cooker or hit boiling water for ~30 minutes. Poke a fork through to see if its soft. (You could cut them if you needed it faster)
Put this into a mixing bowl, add milk, add salt and begin mashing. We use an immersion blender, but any mashing will work.
Serve! If it doesnt taste good, add more salt and add pepper.
Pierogis
Use some of that mashed potatoes and stuff them into this dumpling.
Dough Ingredients-
2 Eggs
2 Cups flour
1/2 tsp salt
1/3 cup milk
Directions-
Start water and get to a boil.
Mix dough ingredients in a mixer. Flour a cutting board and rolling pin. Roll out the dough flat as possible. For ease, it may be best to break it up into a few balls before rolling out. Once flat, use a small bowl to cut circles. We used a Tupperware container.
Fill with mashed potatoes. Close Pierogi, use a fork to seal shut.
When ready, put Pierogis into boiling water for ~3 minutes. Get a different pan hot with oil (medium to high heat). Take boiled pierogis out of the boiling water and into the pan. Brown 1-2 minutes on each side.
Gnocchi
This one takes some labor, I recommend putting on a podcast/audiobook and making them in bulk. Freezing for later.
Ingredients-
4 potatoes
1 Egg
1.5 cups flour
teaspoon pepper
1 teaspoon salt
Directions-
Boil and mash potatoes. Add flour, eggs, pepper, and salt and mix together. We used a stand mixer, the fancy professionals online do this by hand.
Flour a cutting board, and flour your palms of your hand. Put a small lump of the potato/flour mixture on the cutting board, and roll this until you get a ~1cm diameter(tootsie roll size) log. Take a knife a cut every inch. After cutting, roll these into gnocchi shapes. You could use a fork, but they are going to taste pretty similar either way. Now you are ready to either freeze on a baking sheet, or throw into boiling water for ~2 minutes. They will float to the surface of the water when ready.
Serve with spaghetti sauce for best results. See page 49 of the free (eating for 3$/day) Efficiency is Everything Cookbook.
If you freeze, after an hour, take off the pan and put into tupperware or a freezer bag.
Egg Drop Soup
This is basically eating eggs, but with flavor. Makes 4 cups of soup.
Ingredients-
4 cup chicken broth (4 chicken bouillon cubes, 4 cups water)
4 eggs
1 tsp soy sauce
1 tsp sesame oil
Directions-
Get water/chicken broth boiling. Add soy sauce and sesame oil.
Whisk eggs in a separate container. When the water is boiling, add the whisked eggs slowly. After a minute the eggs will be cooked and the soup is ready to eat!
Flat Bread
This has the benefit of not needing yeast. Although pretty much any bread you make will be Efficient.
Ingredients-
2 Cups flour
2 Cups Milk
1/2 Tsp salt
Directions-
Mix ingredients, we like using a stand mixer, but it isn't necessary.
Start a pan on low-medium heat. Add enough of the dough mix to coat the pan. The more you add, the longer the cooking time. This usually makes 2-4 flat breads deepening on the size of the pan. After ~2 minutes, you can flip.
You can google other bread recipes, we got a bread maker from the thrift shop for 6$ and have been making loafs of bread since.
Cooked Kale
Kale is really hard to eat raw, but cooking it with salt and oil makes it as good as McDonald's Fries.
Directions-
Tear kale off the stem, put in a pan on medium heat, add a little bit of water (~2 Tablespoons) and cover with a lid. Let cook for 3 minutes.
Once done, take off the lid, add some oil and salt. Cook for another 1 minute and serve.
Vegetable Pot Pie
Since eating for $1.50/day, we found you can substitute chicken out for potatoes surprisingly well. The texture is similar enough.
Ingredients-
Roux-
5 tbsp oil or better
5 tbsp flour
Filling-
3 or 4 large potatoes or 6 small. Cut into bite sized pieces.
2 cups of mixed veggies (ours was frozen, but fresh is cheaper)
4 cups chicken broth (4 cups water, 4 chicken bouillon cubes)
1 cup Milk
1/2 teaspoon salt (I added more after serving)
1/4 teaspoon pepper (I added more after serving)
EDIT August 2020- Improved Pie Crust
Oil Pie Crust-
2.5 cups flour
1 teaspoon salt
1/2 cup vegetable oil
4 tablespoons milk
2 egg
Directions-
Set oven to 425F.
Make a roux, and add the roux ingredients to a pan and cook over low-medium heat for ~5 minutes, stirring often. Don't let it burn, it's easy to do.
Add the rest of the filling ingredients to the pan, cook until potatoes are soft. If you are looking for some pro advice, Dr. Mandy Kirk says to add the potatoes 5 minutes ahead of the vegetables. Once the liquid starts to thicken, you are ready to fill the pie. More protips- Feel free to add more liquid, milk or water, if the filling is starting to look dry.
The Pie Crust
Mix ingredients, spread a little more than half the dough evenly across the bottom of the pie pan and up the sides and to the edge of the pan.
Take the remaining mixture, flour, a cutting board and rolling pin. Roll out flat.
Add filling. Place top of pie crust on top of the pie as best as you can and trim as necessary. Cut many holes on the top of pie crust.
It doesn't need to be perfect, it will taste great either way. I added extra salt and fresh grounded pepper upon serving.
Cook in oven for 30-40 minutes @ 425F.
If it doesn't taste fantastic, add salt. In general potato dishes will need lots of salt.
*Lower cost broth: every cup of 'broth' can be replaced by 1/2 teaspoon salt and a pinch of MSG.
Pesce d ovo
This is like Salmon Patties, but with eggs. Thank my Italian Mother. My wife was shocked at how tasty this was.
Suppose you make bread, but don't like the crust. Let it get stale, and shred into breadcrumbs using a food processor.
Serves 2 or 3
Ingredients-
3/4 cup bread crumbs
3 eggs
1/4 tsp salt(or more)
Some oil/fat
Directions-
Whisk eggs, then add breadcrumbs. Mix together and let sit for 1-2 minutes.
Get a pan to low-medium heat, add a small amount of oil. Pour 2 patties. Let cook for 2-4 minutes and flip. Goal is to get the patty golden brown. Once both sides are golden brown, you are ready to eat.
Breakfast Foods and Foods I don't like
Here I'm going to list some foods that are either simple breakfast combos or foods I don't like. I recommend googling and sticking to Eggs, Potatoes, Flour, Milk, and Kale if possible. Oil is pretty cheap, I don't feel to bad about adding it.
Eggs and toast(Make your own bread or tortillas)
Pancakes
Waffles
New Additions 4-21-20
Fresh Bread (with a bread maker)
Bread is great for sandwiches, Toast(breakfast toast with eggs, super efficient!), and making breadcrumbs.
Pick your bread recipe, its going to be efficient as long as you limit yourself to basically Milk, Eggs, and Flour.
Ingredients-
1 Packet Yeast (2.5 tsp)
1 Cup Water
3 Tablespoons Sugar
1 Teaspoon Salt
3 Cups Flour
1/4 Cup Oil
Directions-
We got a bread maker from the thrift shop for $6, its been great. Using that container, we add our yeast, 1 cup warm water, and 3 Tablespoons Sugar(the original recipe said 2 Tablespoons sugar, but I liked it better with 3). Wait 10 minutes.
Add 3 Cups Flour, 1 Teaspoon Salt, and 1/4 cup oil.
Turn on bread maker for fast 1.5lb setting.
After 2-3 hours, bread is ready. I find it difficult to cut at this point, but fluffy and tasty. Once it cools, I store in a bag to be sliced for toast later.
French Fries/Fried potatoes
At this point we are just cooking potatoes, but they taste great. You can either cube these or cut into french fry shapes.
Ingredients-
Directions-
(optional- peal potatoes, we don't.) Cut potatoes into french fry shapes. Thin or thick, you decide.
Heat oil in a pan, medium heat. Add fries to the oil, cook for 2-4 minutes. If you like them soft, try after a few minutes, if you like them crispy, cook longer. They do cook a bit after you remove from the oil.
Remove from oil, salt. Serve.
New Additions Courtesy of Dr. Mandy Kirk's Cravings
Mandy has delicate and sophisticated tastes, she craves something and figures out how to make it.
Soft Pretzels
2 Variations here, Salt or Cinnamon Sugar.
Ingredients-
1 package of Yeast (2.5 teaspoons)
1.5 cups of water
1 Tablespoon Sugar
1 Teaspoon Salt
3.75 cups four (Approx 4 total, since you use flour on your cutting board later)
1 Egg
Topping- Either Salt, or Cinnamon + Sugar
Directions-
Turn on oven to 425 degrees.
Put yeast into warm water, let sit for a minute. Add salt and sugar.
Add the flour. The original recipe suggested adding 1 cup at a time, but they were hand mixing. We use a stand mixer and I've found you can add everything, turn on low, and forget it takes no skill.
After mixed, flour down a cutting board, place the dough mixture on the board, kneed the dough for a few minutes, and create small balls, the original recipe said 1/3 cup, but you decide on the size of your pretzels. Roll these balls into a rope shape. Twist into pretzel shape. (If you want it to be perfect, youtube how. It will taste good regardless)
Spray baking sheet pan with non-stick spray/oil.
In a separate bowl, beat an egg. Dunk both sides of pretzel and place on pan. Here is your chance to Salt or sugar + cinnamon.
Cook for 10 minutes, before checking on these. The next step is to broil, but this is the very dangerous step. Broil is a recipe for burnt disaster. You are allowed to leave the oven open and watch the food broil, the heat comes from the infrared rays, not the temperature of the oven. So keep a close eye. Sugar + cinnamon will broil(burn) faster, keep a close eye. Keep a close eye. Broil shouldn't take more than 5 minutes. Ours only took 2-3 minutes.
Tater Tots
These were a great addition to our dinner. As a note they were quite labor intensive, maybe next time we will stick to French Fries. Serve with Ketchup.
Ingredients-
4 Potatoes
2 Teaspoons Flour
3/4 Teaspoon Black Pepper
1.5 Teaspoon Salt
Any cooking oil (veg oil)
Directions-
Peal potatoes. Cook potatoes to the point you stick a fork through it. Boil/Microwave, you decide. Let cool.
Shred the potatoes, and mix gently with flour, pepper, and salt. You are ready to shape these into tater tot shape.
Heat oil to ~medium heat. Add tater tots. We did ours in multiple batches. The goal is to brown the tater tots, just like you imagine them to look.
As a note, if you want to save on oil, you can roll the tater tots around in the pan after they cook on each side. This is slower, but you decide.
New Additions 6-15-2020
10 Minute Hash Browns
This recipe is great, but you NEED to work on high heat. This means high attention as you can go from Perfect to burnt in seconds.
This works because you do not use a towel to dry the potatoes, saving time and effort. But you need to pay attention.
Ingredients-
3 Potatoes
Any cooking oil (veg oil)
Salt
Directions-
Use a grater on the largest multi hole setting to create hash brown sized potato shapes.
In a large pan, put hash browns in oil on high heat. More oil= better browning and more calories.
After 1 minute begin to separate hash browns into ~4 distinct quadrants in preparation to flip. After 2 minutes the hash browns should be brown. Flip hash browns. Salt, potatoes needs lots of it. Wait another 1-2 minutes for the other side to brown. Serve (with over medium eggs).
Roasted Carrots
These are better than french fries.
Ingredients-
1-2lbs Carrots
Any cooking oil (veg oil)
Salt
Directions-
Preheat oven to 425F
Slice carrots to approx finger sized shape, doesn't need to be perfect. Put carrots into a baking pan, and add generous amounts of (veg) oil and salt. Mix carrots and oil and salt and spread around pan, spacing as evenly as possible.
Bake at 425 for 10 minutes, flip carrots, I use a spatula and do my best.
Bake for another 5 to 10 minutes, check on it. Browning means they are perfect.
Kale Salad
Ingredients-
Directions-
Pick a dressing, highly recommend poppy-seed dressing and freshly washed kale. I can't believe I can eat raw kale, but its happening.
Fluffy (Garlic) Breadsticks
These are fantastic. I warn that there is ~40 minute break as you wait for the bread to rise. These taste great. Original Recipe here– modified for Efficiency.
1 tbsp yeast(1 package)
4 1/4 cups flour
2 tbsp sugar
1 tbsp salt
tbsp oil
Mix 1/4 warm water and yeast, let sit 5 minutes. Mix flour, oil, sugar, salt, and 1 1/3 cups warm water into the yeast, we used a mixing bowl for a few minutes.
Kneed dough by hand, ~12 times or until smooth.
Roll into 2 foot long roll, cut every 1.5 inches to make 16. Kneed each and shape into a ~7 inch long breadstick.
Spray baking pan with nonstick spray. Place breadksticks in pan. (We end up using 2 pans on the same rack.)
Wait 45 minutes for the bread to rise. Brush the top of the bread with oil and salt.
Bake 400 degrees, 15 minutes.
After baking, add another round of oil and garlic powder.
$2 pizza
This one is being worked on to be a $1.50/day meal. Ideas for improvements- Make your own Mozzarella in 30 minutes, grow your own tomatoes/make your own sauce.
Here is the $2/day recipe:
Dough:

1 tbsp(1 packet) yeast
2.5 cups flour
1 teaspoon white sugar
1 cup warm water (110 degrees F/45 degrees C)
2 tablespoons oil
1 teaspoon salt
toppings(see below)
Start oven at 450 Degree F.
Mix the yeast with the water and sugar, wait 10 minutes.
Add the rest of the ingredients, mix. Flour surface, place dough ontop. Form dough into round ball, flatten into pizza shape.
Add toppings ideas
Tomato sauce(your garden or from a can)
Mozzarella cheese(DIY or store cheese)
BBQ sauce)
Vegetables/Pineapple
Personal favorites is to make half the pizza tomato sauce and half the pizza Sweet Baby Rays BBQ sauce + Mozzarella cheese. Its really good. In a homemade Pizza sauce- sugar and salt always taste good. Italian herbs like basil, rose-merry, garlic(powder), thyme. Finally, use a pinch of baking soda to cut down the acidity.
Finally, the garlic crust. Lightly add oil to the crust of the pizza. Top with salt and garlic powder.
Oven 15-20 minutes.
Let sit for 5 minutes, and if you would like- add another layer of oil on the crust. (Don't compare me to Pizza chains if you didn't)
Cut into ~8 slices.
$1.50 Efficiency-Mex – Tex-Mex + Efficiency
Warning, this recipe feeds 6. We enjoy this and want leftovers of variations(think taco-bell 5 ingredients) for leftovers. It takes a while to make the tortillas, so I prepare this in bulk.
Ingredients
Slowcooker Refried Beans
3 cups Pinto Beans
8 Cups Water
2 teaspoons salt
Cubed Potatoes
3 or 4 large potatoes, cubed
low cost Oil
Salt to taste
Tortillas
4 cups flour (And extra for flouring the cutting board)
1 teaspoon salt
1.5 cups of water
6 tbsp oil
Additional Toppings-
Hot sauce
Kale
Pickled carrots(?)
Slowcooker Refried Beans-
Put water and pinto beans in a slowcooker, cook on low for 8 hours. Strain beans into bowl, leaving a 0.5 cups to 1 cups of leftover water for potential use thinning the beans down. Add oil and salt. Use an Immersion Blender($20) or hand mixer, or potentially mash by hand. If its not smooth enough mix longer. Rumor has it, some restaurants mix their beans for 40 minutes. 5 minutes seems plenty for home use.
Cubed Potatoes
Cube potatoes. Put oil in a pan on medium heat. (Bonus:- Potatoes cook faster if you cube them small and cook on higher temps. Careful high temperatures Burn quickly)
Flip after a 3-4+ minutes after 1 side has browned. cook on another side 3-4+ minutes. Test with a fork.
Tortillas
Mic (in a stand mixer) Flour, water, salt, and olive oil. Once combined, flour a surface and place dough. Kneed 10-15 times. Rest for 10 minutes.
Original recpie says to divide dough into 16, I like bigger tortillas, I would divide into 12.
Flatten into circle. Put in pan on medium/medium-low heat. Flip after they brown.
Wish you the best
Wish you the best during these unprecedented times. The study will be released at a later date, showing where we got these main ingredients from. This situation is too urgent to delay any longer.
If you found this useful, share with your friends.
Expand your Efficiency
Get more Efficiency to improve your daily life. Subscribe and get three slow cooker recipes designed to be low cost, quick and healthy.