Aldi, Walmart, Costco, and More Grocer Comparison + Never Shop At Kroger Again
Seeing a deal vs Calculating a deal
Aldi will bring you in for loss leaders on Eggs, but their green peppers are 2x more expensive than Walmart. Which is more cost effective?



Typically we have used Calories Per Dollar, but there is nothing wrong with using other metrics. Rather than see which way a broccoli company rounded on protein nutrition, we will compare mass/$.
Process Notes:
Bulk sizes and store-brand were chosen when available.
We look at
Cost – Mass Per Dollar
Quality- Availability
Quality- Worker Pay
We did not look at: Self Checkout, Greeter Presence, and 'Singing Employees'. My advice here- Don't be weak. Basic human interaction is good for you. Consider it exercise.
Grocery Store Comparison
To Continue: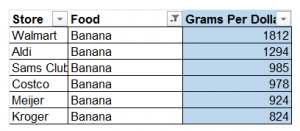 A common theme will be seen today, despite claiming to lower prices, Kroger was our worst performing store.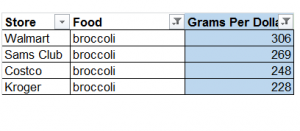 Aldi and Meijer did not have fresh broccoli available. We track this in a later section.

The size of the packaging didn't matter to Aldi, who despite being 5lbs lighter was the cheapest place to get brown sugar.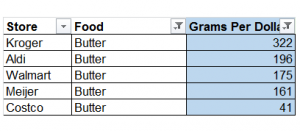 Kroger looks to have a loss leader on butter. Costco does not seem to be the place to buy your weekly groceries.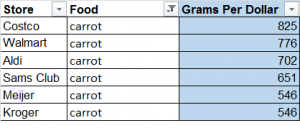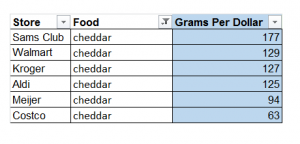 When I go to Aldi, I usually limit myself to Eggs and Milk. Greek Yogurt hits 40g of protein per dollar at Aldi. This is exceptionally high and a recommendation.(Note, I haven't tasted it)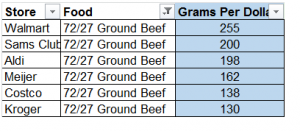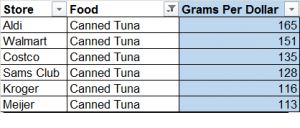 Costco and Sams Club were recorded with their almost nauseating 3lbs of canned tuna. This does not reseal, and possibly intended for restaurants. This is more expensive than Walmart and Aldi consumer sizes. Aside from the membership fees, wholesale seems more like a Marketing tactic rather than bulk bargins.
Introducing Effectiveness
Efficiency is measured as Metric/Cost. Effectiveness is measured Metric/Maximum.
Aldi, Costco, Walmart, and Samsclub are all above 95% Effective. You aren't losing that much going from store to store. However Meijer under 50% would be an awful place to frequently purchase flour.



Can you go into Aldi and Walmart with a smile and create a positive aura?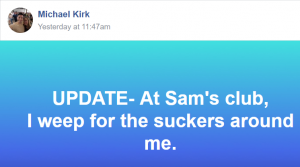 Sams Club is often close to the price of their own store, Walmart.
On many items we found it was significantly more expensive to get the Sams Club product.
While my original statement was a bit drastic(considering it was inspired by the fall of Carthage), I don't see a reason to maintain a membership at Sams Club.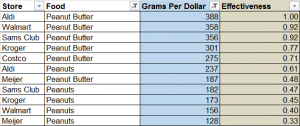 Thought this was interesting. Want that peanuty flavor? Peanut butter is 2x more effective than peanuts.

I've noticed this reoccurring, massive bulk packaging saves around 30% of the cost. That is the highest possible amount you can save from Costco and Sams Club. The top item was a 50lb bag of pinto beans. Despite my urge to believe I need commercial sized quantities of food, the savings on this 50lb bag is only 10 dollars, and in 2 years the food will have expired.

Oh Kroger…


Home Stretch

This looks quite odd, however, my Walmart and Aldi lack a variety of produce, their only Spinach was precut in packaged bags. The lesson here- Packaging is expensive, if you can avoid it, you will save money.

Walmart kicks butt on sugar. Wholesale doesnt benefit you for going big.

Aldi had a crazy loss leader, a bag of sweet potatoes for a dollar. I didn't believe it, so it was the item I purchased to confirm, they gave you a multi-pound bag of sweet potato for 1 dollar.


Fish prices vary drastically by store.

Tortillas seem to be similar from store to store.

This week everyone had a sale on Turkey. It seems Walmart and Aldi are not having difficulty bringing people in. The protein per dollar is deceptively high due to using the weight of bird=weight of edible meat in this math.

More interested in the Calories per Dollar, Pasta seems to have gone down in price in the last few years. My goal for 'empty white carbs' is around 2000 calories per dollar. I've gotten crazy deals on cereal close to that amount, and I usually stock up. At 2000 calories per dollar, anything is a pretty good buy. Walmart 1$ knockoff girl scout cookies often meet this criteria.
Comparing Workers Wages
Really Kroger? Really?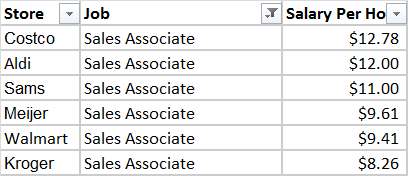 Your decision if this matters to you. It doesnt seem like any grocery store pays well.
Variety and Cleanliness
From our list we found Costco, Aldi, and Sams Club did not have many of the items we were looking for.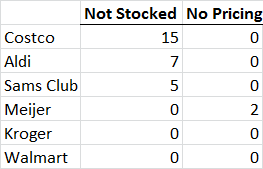 How to Shop
Sams Club
Don't shop at Sam's Club.
Costco
Don't shop at Costco.
Aldi
Aldi is great for a few products, however, keep an eye out for massively expensive products. IE: If chicken breasts are 1$/lb more than other stores.
Walmart
They have a massive variety of groceries at low costs. I recommend them for low cost fresh food and produce.
Meijer
Meat costs were low. With protein being expensive, Meijer surprised me and will have a new customer. Warning to keep an eye out for expensive products.
Kroger
Never again, and you should tell your friends.
Why Kroger?
How does a company pay their employees so poorly and have such uncompetitive food prices? Their target demographic will pay more. Flashy signs claiming low prices, clean store, a name that isnt 'Walmart'. Upper Middle class people routinely go to Kroger without knowing how bad costs are.
Try eliminating Kroger, it will take a few weeks to learn a new grocery store, but your weekly savings will be noticeable.
Expand your Efficiency
Get more Efficiency to improve your daily life. Subscribe and get three slow cooker recipes designed to be low cost, quick and healthy.