Retailers Are Exploiting Your Price Ignorance- Target vs Amazon vs Walmart and More with our Store to Store comparison Baby Items Per Dollar
Lead Engineer-Michael Kirk:
Do not get hung up on 'baby'.
What started as a baby registry optimization evolved into a store to store comparison when we found huge difference in prices. 
This article is a Store vs Store, Brick and Mortar vs Online comparison. There is a lowest cost way to purchase items, and we wanted the data to prove it.
There are not many 'baby' specific tips in this article, but here is one baby oddity- Colors, Boy colors, Girl colors, and neutral colors changed the price and availability. 
Store vs Store –  The Comparison To Be Quantified
The goal was to make an overall shopping decision and pick 2 stores to shop and register at. This is a commitment, having more than 2 stores is overwhelming and difficult. 
Each store had to have an item that meet all consumer quality metrics, from Dr. Mandy Kirk. Metrics were reasonable, and often only 1 name brand had the quality. Lowest price, or the equal product were captured for each store.  Quality was considered and noted.
If a store did not have a product that meet the criteria, they were noted False, not having the item.
The Data
The Winners-
The Data is at the end of the article, but its important to know who comes out on top. Online stores are cheaper and have better selection than brick and mortar stores.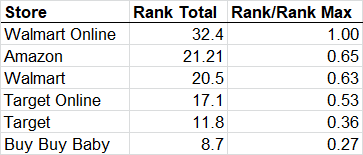 Does this mean shopping at brick and mortar is an expensive luxury?
Further, upon request, we added a blanket 20% off on Buy Buy Baby, this did not change its Rank in any item. Meaning Buy Buy Baby is always at least 20% more expensive than all of its competitors. 
Is it safe to say Target and Buy Buy Baby are 'Never Buy'?
Stock
Online had a significantly better selection, especially Amazon.
11 items could not be found at Walmart in Store. If you included Walmart online, only 1 item could not be found online.
Target had 7 items unable to be found, and 2 unable to be found online.
Amazon and Buy Buy Baby had all items.
Best In Class- The Lowest Cost Items At Each Store
If you were trying to buy one of these items, it would be best to buy from these stores.
Lesson: At Target, there is 1 item in store that was lower cost than anywhere else. This is the exception that proves 'doing your homework' and researching gives you the best price.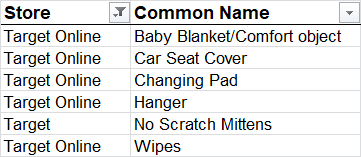 Walmart (online), undeniably the best-

Amazon, not a long list, but they still scored 2nd best overall.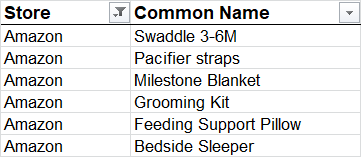 There are no items to buy at Buy Buy Baby.
Conclusions and Next Steps
Now that we narrowed our selection down to Walmart and Amazon, we will pick the best products. Items will be revisited to ensure the items meet quality metrics at the lowest price.
There is more data
There may be use outside consumer applications of this data. New products? Implications of Brick and Mortar's future?  Is there something telling about the future of consumer retail? Are there other overly expensive stores like Buy Buy Baby out there?
The data is massive.
You will see how retailers like Walmart are pushing the weight on low prices- sometimes.  Walmart in-store seemed to be marked up vs online. 
The best experience is with our Excel File. Click Here
Otherwise enjoy the picture-
*False means the store did not have a comparable item.

If you have made this this far, you might care to see how the different grocers stacked up
Aldi vs Costco vs Sams Club vs Walmart vs Meijer
Expand your Efficiency
Get more Efficiency to improve your daily life. Subscribe and get three slow cooker recipes designed to be low cost, quick and healthy.