The Math To Throwing Parties Efficiently – Appetizers, Food, Oz Liquid Drinks, Alcohol, Per Dollar
Efficiency- Michael
With the holidays's coming up, you can save money on throwing your own party understanding the cost breakdown of throwing parties.
Article idea courtesy of Brooke.
Forewarning-
All food recommendations ahead are mostly out of time necessity. If you have time, you can likely save money by making homecooked hipster foods. Your friends will like it better too.
Party Essentials
Throwing a party should focus on the people, not the features. However, without food and drinks, parties teeter out, making providing these a necessity.
Paper Plates, Cups, and Napkins
The following two are full studies that I found fascinating to run.
Paper Plates, Plastic Cups, and Plastic Forks were studied last year. We found the prices so cheap, I was afraid releasing the article would cause massive pollution.
Regarding Cleanup- Paper Towels and Napkins Per Dollar
All Raw Data For This Article- Click Here
Drinks For Thirst
This is one of those 'Quantity over Quality". Although, if your goal is to quench your thirst, Quantity is your Quality.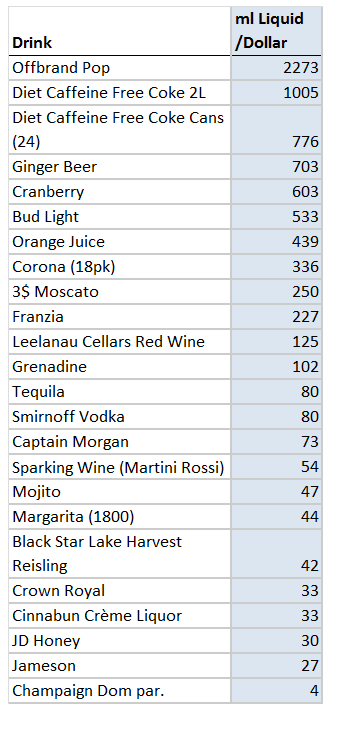 Drinks For Drunk
Old Article, Ethanol Per Dollar. The list below is different, more party-centric.
This has a bit of variety and can give you a scale to understand how much alcohol comparatively costs to one another.
Bread and Circuses, Feeding The Masses
Starting with food, Appetizers are a warmup as a party gets started. It also saves the evening of someone who forgot to eat.
Note that home cooked foods dominate the top of the list. Filler carbs performed well too.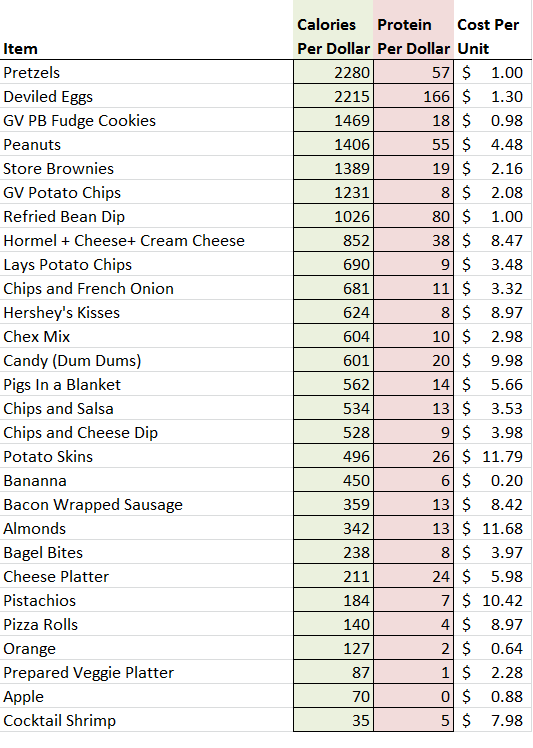 Eggs were on sale causing the Protein Per Dollar to skyrocket. As an aside, eggs are a fantastic value, especially as grocery stores like Aldi and Walmart fight for the lowest cost carton of eggs. Keep an eye out of sales on commodities(milk, bread, meat, etc…), they are actually deals. Sales on Name Brand products are advertisements, not efficient.
Frozen foods like bagel bites performed poorly. As a recommendation, if you are going to spend that much money, get a veggie tray.
Catered food?
I was originally going to compare catered food, but after 6 restaurants, I found the prices were high and the quality wasnt comparable. The cheapest I found was Pizza, and as you spend closer to 10-15 dollars a person, you will get banquet level food.
Major Food Solutions
Need dinner amounts of food? I'm a big fan of cooking. The most difficult aspect here is cooking massive amounts of food at a single time. Pasta with sauce, slow cooker pulled pork, meatballs, etc.. are all cost friendly options.
Look for deals this winter on meats. Last year I found Turkey for almost 1.00$/lb. In the past, I've found Ham on sale as well.
Decorations
For a house party, we like to visit Wikipedia This Day In History, and throw a party about the event. Telling everyone to wear a single color, make funny related games, and naming appetizers is a cheap way to add some Culture to the party.
DIY custom banners are significantly cheaper than a professional custom banner. Your call if a generic Happy Birthday Banner is worth the price. Consider the event before impulsively buying dollar store decorations. Your party should have life without tacky generic decoration.
If you must, garage sales, thrift shops, and dollar stores can fill up your home with decoration.
Entertainment
While I'm not a fan of board games, having friends bring board games can be a free way to keep people entertained. However, I'm repulsed by board games, I'd much rather wander around talking to party-goers.
Background music is a free MUST. It sets the mood of the party, use it for Good.
I'm a big fan of twister.
Conclusions
Lots of information this week, but here are my takeaways:
The more DIY, the lower the cost.
Food is cheap, Alcohol is more expensive. Catered food is more expensive than Alcohol.
If friends are offering, have them bring their favorite drink instead of food
Parties are often lower cost than visiting a restaurant or going to a bar
All of my parties will now include peanuts 😛
Other tips:
Don't forget Ice, Utensils, Mini Umbrellas, Ice, Lemons, Limes, and Ice. Don't forget ice.
Expand your Efficiency
Get more Efficiency to improve your daily life. Subscribe and get three slow cooker recipes designed to be low cost, quick and healthy.