Big Efficiency News + How To Start An Efficiency Lifestyle for 2018
First, we have been hard at work studying various restaurants for the best Calories and Protein Per Dollar. If you haven't visited our Food page, its a comprehensive list of optimizing food. Note: This article is how we eat 99% of our meals.
Hopefully this is every restaurant you would like. Feel free to comment any others you want studied.
It seems Google is starting to pick this up, you can ask 'The highest Calorie per dollar food', and it should tell you.
Burger King Per Dollar
Chick-Fil-A Per Dollar
Hardees Per Dollar
White Castle Per Dollar
Wendy's Per Dollar
Five Guys Calories Per Dollar
Panara Bread Per Dollar
Jimmy Johns Calories Per Dollar
Panda Express Per Dollar
Pizza Per Dollar (Jets, Little Caesars, and more)
Chili's Per Dollar
Taco Bell Per Dollar
McDonalds Per Dollar
Efficiency News
I don't like to talk about myself, I really just want to provide you high quality data. However I had people reach out about my absence. Skip ahead for this weeks article.
I'd like to make quality articles rather than hit deadlines. I had been working more than 70 hours a week between Efficiency and my Engineering job. Paying an Intern only made me raise the quality of the articles rather than reduce workload.
I want to spend a few months programming an App that will make Mutual Funds feel like Cash. "Cash" with a 7% yearly return but with an ability to exchange without fees. This isnt cryptocurrency, this is a solution to a problem I had since I worked at a clothing store. I asked my boss if I could be paid in NASDAQs instead of USD- No. USD inflates, Investment provides value. I'm excited to program for a few months, I hope to come back to Efficiency with some new skills.
In addition, we have a team starting a charity, Kids In Kitchens, where we teach 5th graders how to make a no-chop slowcooker meal to feed 5 people for 6 dollars.
I stopped playing video games and started sewing with a focus on fashion. I post my creations on Instagram.
While I take a break, I'd like to set some very reasonable goals to work toward an Efficient Life.
You Need To Be Efficient
"Oh, you really do this in your life?"
My neighbor was shocked when I was telling him about having shelves in our kitchen to reduce time opening and closing cabinets.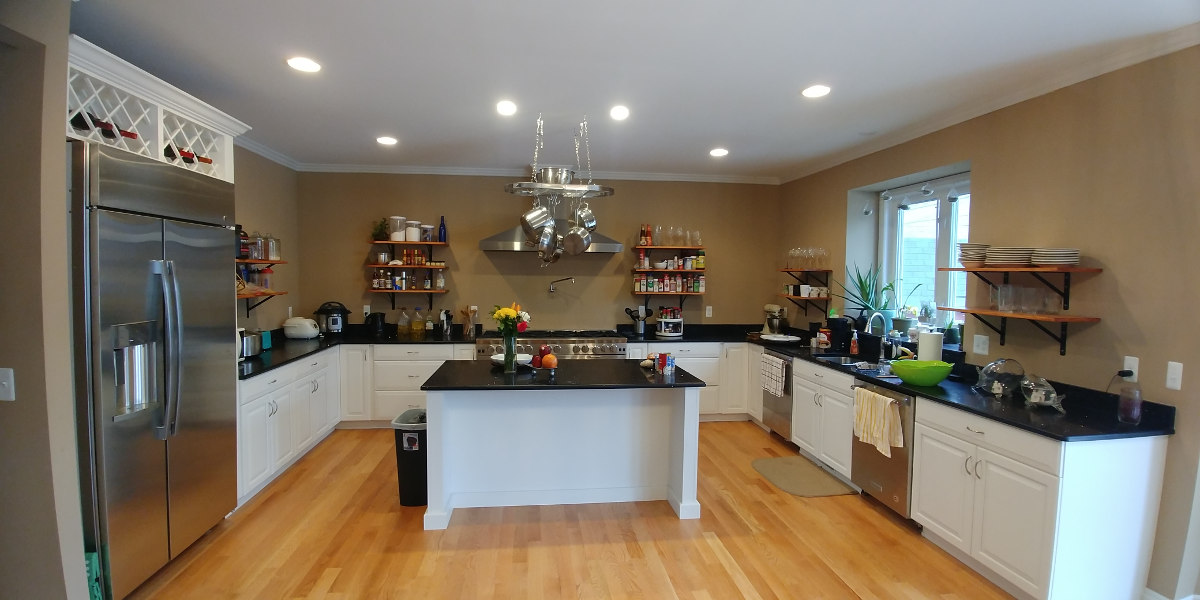 While I don't expect you to remodel your kitchen, I want to you implement major improvements that will pay dividends throughout your life.
Make Life Lazier, Apply Process Flow
Reducing steps in daily routines are something that pays off instantly.
Something like your daily morning routine should be optimized in detail, setting aside time for timed and recorded trial. Either having a partner write down every detail of every step of your routine, or recording and reviewing your routine will give you an opportunity to find waste.
Find steps that do not add value and make it a goal to either remove or reduce that time.
This is something you can do on smaller scales. When cutting food, moving the cutting board and knives closer to the refrigerator. Simply being aware that (movement) Waste is significant will begin to make a serious impact to giving you more free time.
You Know Expensive Foods, Its Time To Change
You know what I'm going to say,
The data has shown over and over that processed foods, frozen, canned, fast food, restaurant food, are not as cost effective as fresh foods.
Could you make it a goal to stop eating out?
3 quick solutions to laziness:
Protein Shakes– Can be made in 1 minute, filling, add some veggies and its a real meal.
Breakfast– Eggs and Breakfast Sausage take me less than 6 minutes to get 1000 calorie.
Bulk Food– We make 6+ servings for 2 people every night. Tupperware!
If you must eat out, limit yourself to only top calorie or protein per dollar items. This is a self-control thing. Eating out isnt going to be healthy, might as well eat it cheap.
Otherwise we eat out for birthdays.
Would you try Biphasic Sleep?
Regardless what time you go to bed or wake up, biphasic sleep can work with almost every lifestyle. Misses Efficiency Wakes up at 6am and takes her nap as late as 9pm. After that, she has a shot of energy and we have 3 hours of productivity, fun, or whatever the situation needs.
Take a look at our sleep articles. Many other users have made the change and say they are not going back.
Save 12 Hours A Week By Taking A Nap- Efficiency Articles
Our First Time Doing Biphasic Sleep + 4 Tips To Fall Asleep Fast
1 Year of Biphasic Sleep Later- Lessons Learned
Testimonials and Tips from other Biphasic Sleepers
Jim's Experience And Tips on Biphasic Sleep
Jake's Testimonial on Biphasic Sleep
Warnings- Why Biphasic Sleep Didn't Work For Hailey and Ryan
Next Steps
I want you to think about your daily life and where there is waste, fix your food (dont be weak), and try something new.
Keep me excited about Efficiency, implement Efficiency in your homes and teach people how to optimize their life.
Check out my favorites from 2017
Save Money Without Shopping For Gas (Applied Secretary Problem)
Water Per Second. Non-trivial amounts of time are spent obtaining water.
Removing Non Value Added Marketing -Essential if you never taken a marketing class
Save Time Eating-Intermittent Fasting
Expand your Efficiency
Get more Efficiency to improve your daily life. Subscribe and get three slow cooker recipes designed to be low cost, quick and healthy.